The 70th* Annual Black Dog AMA National Dualsport Ride
By Tom Niemela
"I have a screaming case of monkey butt!" we all chimed as we got in late again on Thursday night. Randy, Dan and I had again, as last year, spent an entire week on "The Hood" exploring, confirming routes and clearing trail. I personally put on about 700+ miles in the saddle and Randy "RandEye" Beadle and Dan "Hatchetman" Hatcher were in the same range. Last year we worked hard and played hard. This year was no different. Well, maybe a bit more dust and a LOT more trail clearing, specifically on one particular trail.
Okay, for those of you wondering where those other 60 years came from, the 70 is in dog years – *10th annual in human years (it's a "Dog" thing)! This year we wanted to do the "Decade of Dawgs" up right, so we scoured up new trail, new routes, new scenery and new history. The weather Gods had blessed us too. We had rain a week prior, so fire danger wasn't an issue. Bummer, no snow though.
Once again, Beaverton Honda/Yamaha (www.bhy.net) was a major sponsor and added to the overall quality of the ride. For the second year in a row, BHY and their dualsport team of Walt Koch and Frank Noe were integral to the success of the event with the added presence and help with the dualsport magazine/flyer, which was distributed throughout the Northwest. They also brought Top O' Hill RV own Billy and his cooking prowess. NOHVCC (www.nohvcc.org) also showed up with their national big rig to help out. Also on hand was Ron and Tyler Maddox of Maddox Photos (www.maddoxphoto.com) to offer pictures to purchase immediately after each day's ride, plus Bill Spencer of the Oregon Motorcycle Safety Foundation.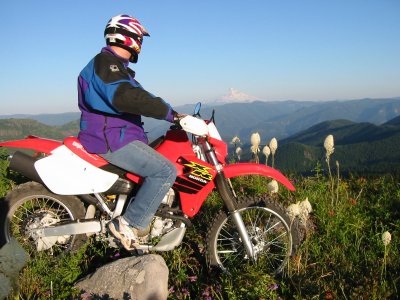 After the usual week's worth of getting all the ducks in a row, NW Tour & Trail and crew started getting things set up for the Friday onslaught of entries. After the usual last-minute reroutes as designated by the USFS, it was off to Kinko's for roll chart copies. This year we elected not to also offer a road ride, although there were plenty of people who requested it, so we'll probably have one next year. For something completely new, this year NW Tour & Trail offered a short night ride to the top of the mountain and back too. Basically toes were being stuck in the water to see if a night ride might be something to offer more of in the future. Just before dusk almost 50 riders had signed up! Then the fun began. This was a simple route: 15 miles of dirt road, a jaunt to the top of Multipor Ski Bowl, some photos and chow at the lodge and the highway back, totaling about 25 miles. No biggy, but at night, things change. The trail from the lodge to the summit presented plenty of adrenaline for all who dared. At the top was Tyler Maddox taking pix for later. The panoramic view was stunning! David Butt commented on the nocturnal ride, "Well the fun began Friday with the short night ride, nothing hard just some asphalt and gravel roads. There was an A section at the turn around point, but I didn't do it due to the fact I was having technical problems with my bike (don't ask me what they were, I can't remember now), but Dan Paulson did it on his KLR and that's good enough for me."
Saturday morning came pretty early. Things started to stir around six o'clock as the Mt. Scott M/Cers started milling around the signup table. Then the riders started coming, and coming. We were inundated! After the signup marathon was finished we had almost 200 entries, sheesh! It's always a pleasure seeing old friends and making new ones too. Thank God for Top O' Hill's breakfast and coffee to feed the starving masses!
At the start check, the riders pulled a card for points and then were off. Saturday's course was fairly long (about 178 miles) and Sunday's course was considerably shorter (about 115 miles), so everyone would get back in time for the two-day awards. The riders took the usual single-lane pavement scrape to the top of Lolo Pass. This is where the first A section started: The Daisy Trail. Not much in length, but wholesome with challenge. Plenty of brush, water, mud and boulders to make sure the A riders were really A-level riders! From there the A riders came to the first big creek crossing – with a twist. The night before, some people had camped right at the creek crossing with plans to go trail riding the following day. Little did they know that a group of unwary A riders would ride by their campground the next morn. Once they realized what was up, they welcomed the entertainment (they got plenty!). On the other side of the creek was Tyler Maddox again with his digital camera ready for a quick draw! As usual, the creek claimed more than its share of riders. Stories of riders treading water were running rampant. Then the A riders skimmed a small trials section, rode some old two-track, then worked their way up a long power line two-track and descended on the Carwash Trail. Due to logging, the tail end of this section was totally different, once the slash was cleared.
Then the A & B sections went up by Wahtum Lake and came down a ridgeline skid road. The only C option bypassed this section, since the bigger bikes could have had some difficulty here. At the bottom of the skid road reared the first instance of "Lemming's Disease". Evidently, a few riders missed a left turn at the bottom of the ridge and went straight. Subsequent riders saw the tracks, instead of watching the roll chart and ribbons, and followed. Vicious rumor has it that about 20 riders were lost as little lambs in this area. After this section the riders went down some easy two-track to the first checkpoint at the community of Dee. This was another A & B split, where the A riders were treated with virtually new single-track trail. This was supreme, luscious-loam single track (that had never been used before) called "Rick's Rockin' Railway" named in honor of the local trail God, Rick Higgins. It eventually ended up onto a short pavement stint towards Hood River. A-sweep rider, Randy Beadle commented, "As I was cruising down the final paved section of the Hood River trail system, I noticed a warning on the roll chart of a sharp left turn coming up. I chuckled as I noted all the skid marks leading off the road and into the bushes. Obviously not everyone was paying attention to the roll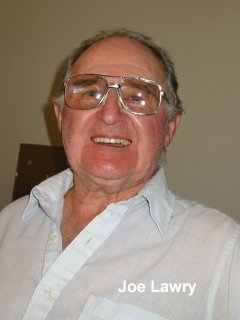 chart!" From Dee the B course wound through a new section along an aqueduct that was a real gem. I actually expected to hear of someone falling into the aqueduct, due to too much fun, but nobody 'fessed up!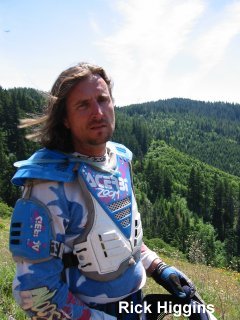 Both routes dropped to the town of Hood River, got gas and headed over towards Parkdale for lunch. On the way was the only AA course of the weekend, but what a work of art it was! The brave ones that tackled this section (once again created by Rick Higgins and his buddy Joe Lawry) were presented with many challenges: nose bleed downhills, off cambers, jumps, loam, uphills, etc. – about seven miles of intense riding!
Lunch and the second checkpoint was at the Mt. Hood Country Store for gourmet sandwiches and sodas. Then the A & B courses split up with the B riders taking a leisurely puttsy over Surveyor Ridge towards Hwy 44. The A riders however, went up the usual, nasty Stairway To Heaven section, were rewarded with a stellar view from Bald Butte, wound around a lengthy trail and then made their way to Hwy 44 also. At this section was the final A & B split with the B course taking some great two-track complete with water bar jumps aplenty. The A riders got the opportunity of riding a new trail from the summit, which merged together once again with the B riders.
From there all riders rode to the scenic High Prairie region, then Gumjuac Ridge Road and then came back to finish off the day. Once back in, the Saturday-only riders got some trophies and prizes, ogled over the great pix that Tyler Maddox had taken of everyone, and then it was dinnertime. And what a feast it was! Billy, from Top O' Hill RV had a mega barbecue rolling and fed practically the entire campground (Twas the least that could be done after waking the locals at six o'clock in the morning). Canuck extraordinaire, Lisa Bierlmeier commented on the day's ride, "On day one, we stuck to the 'B' course, a scenic scoot along primarily fire roads and 2-track. We were also treated to a rip down the single track winding along the aqueduct, a section the unsuspecting 'A' riders missed out on. I was pleased to find my skills had increased since last year's ride, and along with the extra confidence, came my now-awakened competitive side."
Dan Burkett commented, "What a wonderful experience this years Black Dog was. Thanks Tom. Though I had a rough time in the creek crossing as evidenced by the kindly photographer from Maddox Photography. After 40 minutes or so of encouraging an old Honda lever to fit on my soggy DR, my riding buddies and I were on our way again. Thanks for waiting Guys. Did I mention soggy, well about the time I hit the long up hill under the transmission lines the carb sucked up some of that water and made negotiating the hill a bit tougher than I had hoped. Eventually, with more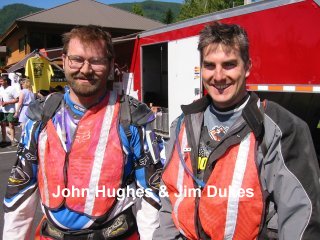 assistance from my ridding buddies and some judicious use of the choke (pulled on and off eventually sucking the water through the carb and burning it up), they managed to get the bike working closer to what I am used to. Undaunted we continued the A course, where I got hung up on a nasty, deep, loamy hill climb that spanked me hard a couple of times before I finally made it to the top, legs flailing behind the bike. Fortunately form does not count at these events. So far all delays have been my fault so when we got lost I was actually relieved. We now had a legitimate excuse other than my meager abilities for being late. As luck would have it we were still at lunch when Tom called the checkpoint and said all riders that have not left yet WILL ride the asphalt back. We did."
Oregon Dualsport Riders Group (http://groups.yahoo.com/group/Oregon_DSR) head honcho, Dave Butt said, "All started smoothly, I had teamed up with Bryan and Bob from Medford, all of us riding KLR's. We were going along just fine and dandy until our first mistake. We took a wrong turn and found ourselves riding a trail a Yak would have trouble on, very rocky, rather steep and, to let you know bad things come in threes, a small creek at the bottom with even more rocks. This was one of those trails where if you start it, it is best to try and ride your way through it, otherwise you'll only find yourself in more trouble trying to turn your bike around on a sloped incline. Well to my amazement, we all rode this section and with no falls, but Bob did get wet feet, hehe. For the guy that doesn't have riding boots yet, see what happens? (He laughs) Well, we turned ourselves around and got back on track. The next obstacle was a large creek where the photographers had set themselves up to get photos of the riders as they rode the creek. We were actually advised not to try and cross this section due to the weight of the KLR's. We only needed to be told once and took the easy route around, but a little birdie did tell me Dan (Burkett) is an excellent swimmer. Tell me it's not so, Dan! On we pressed, riding some single and double tracks. One section not too far from the creek was probably the worst for us. We were all riding at our limits and began to feel that maybe we had bitten off a little more than we could chew, very tight turns and rocky, but we soldiered on. This happened to be the worst of it. From here out our ride was fun and enjoyable. There was this one section that ran along a waterway (viaduct?) it was great! A lot of hump and bumps, soft, loose dirt and a few rocks and fallen trees to add to the excitement. I could have stayed on that section all day, I enjoyed it that much, but time was ticking and we had to press on. From here we rode all sorts of terrain from single track to rocky trails and so on. The route also had another bonus, the scenery; Mt Hood was visible from so many different points on the course, truly awesome. We all made it back to the start point without any major mishaps, oh, except for one; Bryan did fall off his bike and break another windshield. Actually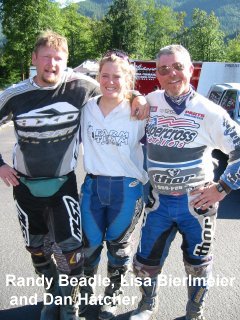 that's the second time he has broken one of them while we were riding together on an event, but luckily for him, I'm not the kind of guy to put that kind of info in my quotes. Sorry old buddy, but have you ever thought about taking up knitting?"
After dinner it was quiet as a mouse around the campground, except for the Black Dog masseuse Ilse Schoffstoll, who was busy getting some of the rider's tired muscles rejuvenated for the Sunday ride. Obviously, the riders had gotten their money's worth and were thoroughly pooped!
Sunday started at seven o'clock due to the shorter course. Signup went considerably smoother and the riders were on their way once again. On this day all the riders were treated to the full length of the Old Barlow Road after the first checkpoint, which is the end of the original Oregon Trail. This road is way easy, but way fun too! Randy Beadle had one scenario; "I was cruising down Barlow Road when I slowed for some hikers, then out of nowhere came a black dog chasing me. I thought how ironic to be chased by a black dog at the BLACK DOG!" The Barlow Road eventually funneled into some rough trail by another aqueduct, wound by Rock Creek Reservoir and culminated into a pavement scratch to Wamic for the second checkpoint, gas and lunch. Lunch consisted of burgers for all at the Pub & Grub – great food!
From there, the A & B courses split. The B course was beautiful, and leisurely, slowly working its way towards Badger Lake Wilderness. The A course on the other hand started off in the Lost & Found Trail. Nothing to go by but ribbons here, so vision was essential. It was about three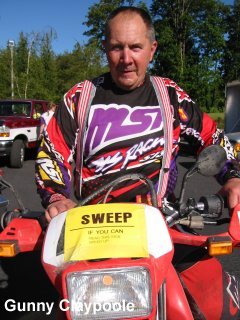 miles of Hell, then the A riders wound to a section called Quad Alley for some fun, fast back-and-forth action, eventually trekking to the alpinesque Rocky Butte Trail. The club had spent a full 1.5 days cleaning out this trail, and the riders all confirmed it was worthy of the effort!
Both courses then merged into a long, extremely rocky road that escorted the riders to the panoramic summit of Bonnie Butte. Tyler Maddox was once again there to record pictures for the riders. The striking backdrop of Mt. Hood was soothing to the senses. Then it was the coupe de' grace to the finish of the day and the weekend.
At the finish there was plenty of photos from Mr. Maddox and comments for the day. Never at a loss for words, the legendary Lisa Bierlmeier said, "On Sunday morning, I was chomping at the bit to get out on the trail, entertaining thoughts of riding the 'A' loop in the afternoon. At lunch, three of us decided to wander onto the 'A' course; Mike from Kentucky on a DR350, Rich from Seattle on a DRZ-400 (that was missing both a right footpeg and a functional battery!), and me on my trusty DR650. We wound through the aptly named "Lost & Found Trail" (connecting the ribbons), up some sweet 4x4 track, and then arrived at the Rocky Butte Trailhead. Tom's crew had advised us to bail back to the 'B' Course at this point, as apparently some nasty switchbacks lay ahead. Discretion having been tossed to the wind somewhere during the rat race down the Barlow Road, we took the requisite 'look where we are' picture and angled up the trail. About a half-mile in, we hit the aforementioned steep, rocky, loamy switchbacks. With the assistance of other riders trapped in our wake - and following much clutch slippage, Rich's judicious use of four-letter words after stalling his bike, and a tricky bump-start on a rocky ledge - we made it up the butte. Some of the sweetest single track I've ridden awaited us there, making our ordeal (and my now-warped clutch plates) well worth the effort."
Bryan Townsend said, "A hearty thanks to Tom and all his volunteers who helped put this on and give up weeks of their lives so we can rip it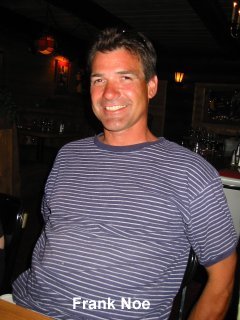 up for a weekend. You put the hot damn in dualsport, Tom!"
Jeff Nicholson said, "Thanks again for another awesome ride! As usual you and your crew out did yourselves. My butt is sore and my shoulders in spasm, but I don't care, it was worth it. Please thank all of your helpers (I tried to thank all of them at the checkpoints and in the pits), they did a great job! See you at the Rat Dawg!"
Andy Olsen commented, "It was good to finally meet you and ride the infamous Black Dog. Russ (Ehnes), my wife, and I had a great time!"
"Wow, what a great ride that was!" said Jeremiah Archer. "As always I am just now feeling back to normal. You guys do a great job and can't believe how spoiled we are to ride such a beautiful area."
Dick Stidham said, "Tom, we want to thank all who worked so hard putting on the great event. It was a blast!"
Dick's cousin from Sweden, Christian Mottonen said, "Thanks for the fun!"
Lt. Dan Burkett laughingly said, "Sunday there were but two of us willing to abuse ourselves again. We thoroughly enjoyed the Barlow Road. It's kind of like our own race track (we ride it a lot), so the pace felt slow to me, but that's okay, nobody crashed. After lunch we thought we would take it easy and started the B course. Oops, once started on that route, there was no way to opt for the A course, so we had an easy puttsy in to the finish where we enjoyed camaraderie and drink with our fellow riders. I won a much passed over Victronics Swiss Army knife - yeah for me. Thanks Frank. I now have a new motorcycle too. It was just too embarrassing to be seen on that now highly recognizable bike and have to answer the question, 'Weren't you the one who had that crash in the creek at the Black Dog?' So look for the guy with the big smile and an Orange '99 KTM LC4640 – Thanks, Andy."
Second place overall winner, David Butt finished off the ride by saying, "Day two was much like day one, but this time I was without Bryan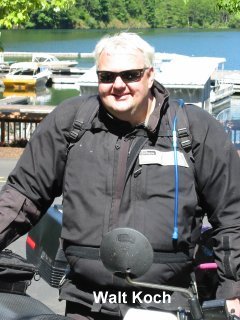 and Bob, as they had other commitments, so I tagged along with Dan P, John K and Lisa B. It didn't take me long to realize that my riding skills were not up to par. These guys know how to ride and soon I was finding myself further and further behind them. It's all because of that technical difficulty I was having with my bike, I'm sure! Anyway I'm an excellent liar and so I had plenty of time before the finish to think up a story of why I was so far back. Well, Sunday's ride was shorter and I found it to be a lot easier than Saturday's except for the trip up to Bonnie Butte. All riders were forewarned about how rocky this section was and it was optional, but no one had told me I'd need a lunar module to ride over that section. I had a devil of a time trying to find a line to ride on, I'd turn to avoid one rock and end up bouncing off another three on the other side. Thank goodness the ride up the side of the hill wasn't a long one, but must admit, as promised the view was spectacular. On the way down, being as this section was two-way traffic, made for a few close calls. I'm so glad my eyelids can close. This helped alleviate the fact you have to ride next to a somewhat looooong drop off. I have a fear of heights by the way. On I pushed, riding at my own pace and just enjoying the fun that dualsporting can offer. I actually finished the Black Dog and I thoroughly enjoyed myself. Kudos go to Lisa B for riding the A section on the second half of day two, and to Dan P for taking a nasty fall, but getting back up and finishing the whole course. The Black Dog was a 10 out of 10. Would I do it again? You bet I would! I found some of this course challenging, but what is life without a challenge. I'd like to take this opportunity to thank you and your staff for putting on such a great dualsport event, from the sweepers to the check point assistants, from the sign up crew to your sponsors, from Beaverton Honda/Yamaha and the Top O' Hill RV for the great food and refreshments and everyone else that helped make this Black Dog event one I will cherish for many years to come."
Other highlights of the event was Mike Greene unfortunately performing a major soil sample and ended up with a broken wrist on Saturday. Ouch! He did however, win the Hard Luck Trophy! Dan Paulson got bruised up on Sunday, but was able to finish. Bob Schwarz once again stole the Oldest Rider Award at 77. Bob's only older than AMA's John Pursley by a couple months - close! Christian Mottonen won the Long Distance Award all the way from Sweden! Mike Barnes came from Oklahoma thinking he had it, but was outdone. Phil Butler won the $300 cash prize!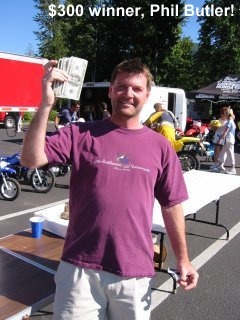 (Drinks on Phil!) Dennis Schon won the first place trophy overall! Don Weeks commented that he has ridden all the Black Dogs! (All 70?) Plus, he's ridden them all on the SAME bike! Wonder if there are others too? World famous dualsporters Rev. Ron Loomis and Jim Pilon came all the way up from LA and Las Vegas to ride the event for the first time. These two characters run the LA-to-Barstow-to-Vegas Dualsport every year. The always insane Lee Riddle drove up from Brookings, but had to ride a used, clapped out XR. This bike looked like it was run hard and put away wet, but undaunted, Lee finished the weekend on the trusty steed! Some mysterious rider went off one of the dirt roads and needed about eight others to help him get his scooter back up again – yikes! John Bridges and Doug Bragg's friend Jeff Durante took out the entry/exit gate at the Mt. Hood Village. He was following a truck and it came down between them – oops! Many thanks to Tim Erickson and Richard King for the, ahem, wall calendar! Past USA ISDE rider, Mike Medick showed up for his first ever dualsport ride and wasn't disappointed. Past racing nemesis, Ron Gustin showed for his first dualsport and promptly got lost [Ya gots to have an odo, Ron, hehe] Washington state AA enduro champ, Al Fetterly again showed his mug. [That AA section was for you guys!] Poor Lisa Kundrick's starter button went gunnybag on her, so she opted not to ride Sunday's course – dang. Better bolt a kickstarter on, Lisa! As Lisa B. commented, one rider rode almost the entire weekend with only ONE footpeg! One God-like sweep crew rider, the world famous Gunny Claypoole had some signs made up for each sweep crew bike that said, "SWEEP CREW If you can read this sign: speed up!" Many requests were made to have an espresso machine at signup [I'll drink to that]. Reverend Ron Loomis passed someone in the dust, hit a rock and broke the shifter on his new Suzuki 250, so he rode his XR350 on Sunday (which was for sale). Brian and Craig Alberts made some custom Black Dog shirts that kicked! (We may have to use their basic design for next year) Many of us got the pleasure (at his expense) of seeing the stately Bill Law tip his Katoom over at the finish check. One rider Kraig Batdorf, had the coolest "farm" bike in existence. He had crafted the most bizarre steering dampener I'd ever seen, along with an array of other mods that he had custom made – way cool! Tyler Maddox got pulled over and written up for no driver's license on his person! Mitch Gensman's 650L battery started to go bad on the first day, so he finished the 'A' trails before lunch, motored to the local Hood River bike shop and snagged a new battery, and still made it in time for lunch – WFO! I learned a new word, "Griz". You'll have to ask RandEye Beadle on that one! We had bikes as far back as a '72 Suzuki 90 Honcho to a new BMW R1100GS. We had riders from Oklahoma, Wisconsin, Montana, Sweden, Canada, Idaho, California and of course Washington and Oregon.
There is no way this event could continue or even begin to operate at the level it does without the integral help from such fine folks as Beaverton Honda/Yamaha, Top O' Hill RV, Affordable Trophies, USFS, Clarke Plastics, Budweiser, Mt. Hood Village, "RandEye" Beadle, Dan "Hatchetman" (Randy and Dan are a hoot to work with and can actually stand me for an entire week prior!), "Gunny" & Laura Claypoole, "Jobias" Hughes, "JD" Dukes, Walt "Wakco" Koch, Frank Noe & family, Jerry Lenz, Rick Higgins and Joe Lawry, Megan & Terril, "J&J" Barrell, Ron & Loretta Rice, "Dr. Daryl" & Rayne Reid, Marty & Diane Clough, Ilsa & Jerry Schoffstoll, Ron & Tyler Maddox and their awesome pix, "Rusty" Ehnes and Joe Vance from NOHVCC, David Van Riper (for sustenance), Reverend Ron Loomis, Jim "Ironman" Pilon, Kevin Kaczka's Mom & Sis [for signup. Sorry, didn't catch your names!], John Bridges and Doug Bragg for the helmet cam videos, Dave and the Oregon_DSR ...the Weather Gods, the local ZigZag espresso bar and evening bar ...and probably so many more that I've forgotten at the present. Of course I cannot forget all the great people that showed up to ride! You all are the ones that keep us trudging along all these years and make all the work seem like fun.
We're not quite sure what to call this Dawg, since everything went so well.

Maybe the Dusty Dawg?

FYI, next year we plan on hosting the Black Dog on July 13 & 14, so we're not bucking up next to July 4th weekend.

See you at the Rat Dog on September 22!

You can check us out on the web at:

www.blackdogdualsport.com