*1999 Black Dog 2-Day Dualsport Ride
*Riders Scratch Their Itch At The '99 Black Dog!
*Riders Wag Their Tail At The '99 Black Dog!
*Riders Claw Their Way Through The '99 Black Dog!
*Howling At The Moon At The '99 Black Dog!
*Howling Hounds Endure The '99 Black Dog!
*If You're Not The Lead Dog, Then The Scenery Never Changes At The Black Dog!
*Walking The Black Dog Without A Leash!
*From Snow To Dust – Not A Fire Hydrant In Sight At The Black Dog!
*Tired Puppies Survive The '99 Black Dog!
*Dogs That Actually Have Opposing Thumbs Ride The '99 Black Dog!
(so many great titles to choose from!)
By Tom "Wolf Pup" Niemela
The snow was everywhere. Scouting for routes on this year's Black Dog was nothing short of frustrating. La Nina had delivered a strange year for the Northwest and an abundance of snow was one of the remnants. Past Dogs had been hot dogs, wet dogs, good dogs and killer dogs. Would this year be the snow dog?
As usual, I take the week off before the Dawg and end up putting over a thousand miles on my poor old Honda XR600 and fanny. This entails trail clearing, recording mileages, confirming routes, etc. It was snowy and raining setting up the course, but turned quite warm and dusty for the weekend of the event. This year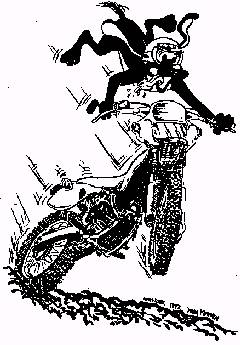 would have a few new surprises too. Two issues affected this year's Dog: Snow and Forest Service reroutes. The Forest Service requested that the Still Creek Road option not be used, plus the Gumjuac Ridge Road was filled with miles of snow. So, This meant that the riders would have to do a few miles of pavement scraping to get to the good stuff.
Friday night had people rolling into the Mt. Hood Village Campground and setting up their respective camping areas and turning the place into a fun party. Dualsport riders are great people and know how to have a good time.
Saturday morning had signup starting around 6am. Riders signed their life away, picked up their lunch tickets, T-shirts, roll charts, plus a little novelty item to have fun with: Black Dog temporary tattoos. Let your mind reel as to where many of the tattoos ended up!
Saturday's course went up the highway to Mt. Hood, over the top by Sahalie Falls, where the riders had to push a tad bit of snow and hop a few logs. I did get to see my sweep-crew buddy, Randy Beadle, make angels in the snow on this particular section, although he wanted me to not tell anyone, hehe. Then it headed down Hwy 35 towards Mt. Hood, up towards High Prairie and towards Camp Fifteen. Due to the snow and subsequent snowmelt, High Prairie and some trails had to be avoided. The course then wound around an old two-track, a bit of pavement, then onto Surveyor Ridge. This area is quite spectacular with the stellar view of Mt. Hood and the Hood River Valley below. Most of Saturday's course was backwards from last year, so the A riders this year went down the Stairway to Heaven section, which had the adrenaline pumping for many riders. The steep descent and loose rock makes a rider suck up plenty of vinyl!
Lunch was graciously provided by Beaverton Honda/Yamaha at the Mt. Hood Country Store. The owner, Tonia, provided some tasty chow. After filling up with gas, some riders had enough already and hit the pavement back to the finish, but most continued onward towards the town of Hood River and the next trail section. Previous years had the A riders going down this section, but this year they would go up. This changed everything! The normally technical and sedate trails became a series of major obstacles for the riders with the dust and steepness. Later helmet cam videos would have everyone rolling around the evening's campfire! The A sweep crew got in late due to one hapless Canadian KTM entry that had never ridden trails like this before. Boy, was he pooped! The next section was the rocky climb up to the panoramic Mt. Defiance, the gravel road rip down to Dee and the final trail section on Lolo Pass. The B riders had an easy putsy through Lolo Pass, but the A rider's last challenge would be the Carwash Trail. This is normally a brushy adventure going down, but going uphill made it an entirely different adventure, plus there was one final loose-rock downhill the riders would have to tip toe down. Then it was a relaxing cruise to the finish of the 170-mile day where there were the final games of chance for the riders to acquire points towards trophies and prizes. That Saturday-only trophies were then awarded.
Then came the other fun part of the ride – the evening after the ride. This year a tasty concoction of chili, cornbread and salad was cooked up by the Mt. Hood Village and was once again provided by Beaverton Honda/Yamaha. As usual, the stories and lies commenced with great enthusiasm! Gunny Claypoole had his Team ISDE shirts available to help with the USA Team, plus he brought up videos for everyone to watch of previous ISDE's. Beaverton Honda/Yamaha provided a TV and VCR for this too. In another campground, John Bridges and Doug Bragg were showing their helmet-cam videos of the days ride and had everyone in stitches with some of the trail sections! The party continued late into the evening as the riders also assembled their rollcharts for Sunday's ride. My old buddy, Larry Lake had nothing but his feet sticking out his truck, he was so tired. He was one pooped out puppy.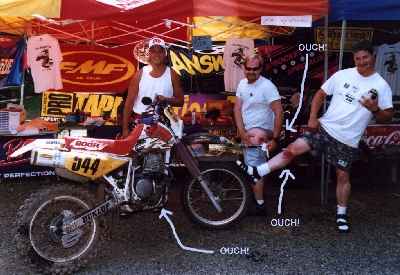 Sunday's 150-mile course was the usual signup at 6am, rider's meeting at 7am and first riders out around 7:30am. Since Still Creek Road was unusable, it was a pavement scrape to the summit and over to Frog Lake. The Blue Box Canyon trail was normally the first challenge for the A riders, but since the sweep creep got in later than normal on the night before, the Blue Box Trail wasn't cleared of its abundance of about 30 windfalls. There were a few daring souls that actually went through this section and one of the bikes was a massive DR650 Suzuki! Incredible!
The course snaked around Timothy Lake and worked its way towards High Rock with plenty of huge mudholes, trails, log hops and more trail for everyone. Oh yes, they were into snow again too! This is where I darn near ran into a huge black bear, while setting up the course. We were both scared silly! The incredible view from the base of High Rock (the top was snowed in) was a turnaround point. The route took everyone back towards Timothy Lake, plenty of trail again, through Allison's Tunnel of Love, and eventually working their way to the McCubbin's OHV Area. Due to the small design of the McCubbin's Area, the trails are well used. Plenty of dust, dirt, rocks and roots greeted the riders and they were glad to hit the final pavement section to Ken's Market in Pine Grove for lunch and gas. Beaverton Honda/Yamaha once again provided for the hungry riders.
From there some two-track through private land brought the riders to the McCubbin's Area again, but there were about four miles of huge base rock that had everyone puckering to get through. Plus there were plenty of island-sized cows to sneak around! Then the course led everyone to the final and historic section of the day's ride, the Old Barlow Road, which is the original and final leg of the Oregon Trail. The A riders had yet one more fun opportunity before hitting the Barlow Road. This was a little alpine trail called Bonnie Meadows Trail. Very tight, very technical, numerous rocks, but very fun!
At the finish it was plenty of smiles and dusty faces. Everyone had finished and there were no major accidents. The Sunday-only trophies were handed out, then the bigger two-day trophies and prizes were handed out. Eight-year old Cody Olson, from Lake Chelan, WA pulled the $200 cash prize award winning ticket that went to non other than my old riding buddy from Medford, George Flanigan. Right on, George! The weekend consisted of many items that happened. I thought I was going to be t-boned by the world's biggest black bull, almost tangled with a bear, deer and various vehicles setting up the course. Saturday had one of our Canadian friends, Melissa Burroughs, executing a major lipskid in a waterbar section on her tricked out YZ80 dualsport bike. Fortunately, she ended up being only slightly sillier than she normally is. She continued on and rode both days! Jim Dukes rode Saturday's B course sweep on his BMW GS1000 in a manly display of skill. John Hugh's XR seat was so hard, he borrowed my seat and his tush was grateful. There were about four flat tires, some people had multiples. A couple broken speedometer cables. The Hard Luck Trophy went to a couple, Corey Menele and Michelle King, that tagged a cow in the, er, tail section. The passenger, Michelle, got a sprained ankle, but the cow left pooh all over their muffler, which got baked on! (No, the cow wasn't hurt) Oldest Rider Award went to Bob Schwarz – again. Yeah, Bob! John Bridges and Monte Darling both won the Longest Distance Award for coming the farthest. Dave Schneider got the Oldest Bike Award with a sweet '73 Honda XL250.
Bob Davis came in early on Saturday. Evidently he had forgotten a section of his roll chart, but had fun anyway. "It was fun, and I'll be back next year!" he said. "I went slow, but I didn't fall down once."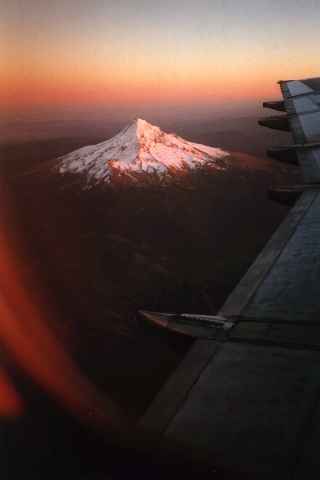 [The Black Dog course circumnavigates around the majestic Mt. Hood]
Mitch Ginsman said, "A deer almost climbed over my tail end today! I didn't even see it! Ron [Nielson] said he jumped out into the road, reared back on his hind legs and fell over backwards. He was only two feet away from my taillight. And I never even saw it!" [laughs]
With a very dusty face, Ron Nielson said, "Well, my nose is brown, because Mitch keeps kicking dirt up at me! [laughs] He won't let me ride in front and I can't pass him, so I had to eat dirt all day. Two days in fact! You should have seen my teeth rattling coming down off that steep hill and roots yesterday! They were rattling coming across that base rock after lunch today too! Was a fun ride."
My old racing nemesis and buddy, Bill Bishop said, "It was good! A little hot, but whatever. I came across about four guys in Blue Box about 2/3 way through. It looked like they were hating life. They were all looking for a hole to get around some logs. I just kind of wiggled through and 'see ya'. I saw one guy crash on that rocky road coming back from Ken's Market. I came up on two riders who were together and dicing and one of the guys starting sliding in a turn and just kept sliding and there was no coming back. It was almost funny. Then blam, he went down and just laid there for awhile. Think he hit his head. The other guy and I stopped and asked if he was alright. He laid there for a bit and then said, 'I'm tough' and got up again. Overall it was really a good ride!" [laughs]
Greg White said, "Well, the cow you were talking about this morning, well, I almost got one of them. It was HUGE! It was back in the trail, and I might have tangled with it, but it got spooked and ran back into the bushes."
Trevor Jones said, "I had a deer run out in front of me and about two miles later I had the front end wash out on me going around a corner and I low sided. Scraped up my wrist through the glove, but I'm all right. Lost the spring on my kickstand and went back and got it. This was my first dualsport ride and it was awesome! I was loving it. Next year I'll come back with a WR400 – a real bike to do this course. [laughs]"
Todd Crenik said, "Love it! Just had a great time and I'll be back. I just followed the B course and the one A section. Definitely be back next year and ride all the A courses. It was great weather, great campground."

Brian Alberts said, "It was great overall! Didn't have a lot of funny things happen."
Craig Alberts said, "It was a blast out there! The funniest thing was trying to avoid a big pile of cow poop and hitting a rock and going over a log at McCubbin's Gulch. I didn't hit the poop, so that was good!"
Dave Westfall said, "It was dusty. Yesterday was a killer. It was fun! Steve Simon was his usual grumpy self and Albert gave him Hell. [laughs] We got lost once, but it was our fault. Thank you very much, it was fun."
Ray Carpenter said, "It was awesome, all day! The cows were funny and it was funny watching from behind and the riders trying to pick their way through and around them!"
Peter Adachi said, "I hit my head, but it was good. It was a great ride today. The trail network was really fun. Thank you for the ride!"
Nehl Evans said, "It was a great ride today and loved the whole Barlow Pass area. It was fabulous and I saw the biggest bull that I've ever seen in my life! It was the size of a Buick at least! Had a great run, had a wonderful time and we'll be back next year."
All the way from Canada piloting a WR400 Yamaha, Glenn Nixon said, "It was very long, and six guys in the group, and one guy hadn't been on a bike in 18 years, so we took them through all the A sections in the morning, then one gave up and rode back. We started off with six and there was three by the end. Melissa hit her head pretty hard, but she ended up being okay, so that was good."
Glenn's Canadian cohort riding a tricked out YZ80 dualsported bike, Melissa Burroughs said, "There was an older guy who was really mad because a girl on an 80 passed him on a really rocky section. [laughs] One of our guys ran into a big log today."
"It should be illegal to have that much fun!" said Steve Olson. "Especially Barlow Trail! I'd like to see a new loop where we loop around and do it twice."
Looking like a cyborg (helmet cam attached on one side and intercom on the other), Doug Bragg said, "The Barlow Road was a blast as usual! Had a good time on all of the trail sections. Was a little dusty, but hey, wasn't bad. Got some good video footage." (Still waiting for that videotape, Doug!)
John Bridges said, "Excellent! Man, we got some good video of Barlow Road today. We railed it. I got a really funny story, but I don't think anybody wants to hear it. I peed my pants today. [huge laughs from everyone] I couldn't get my gear off in that big gnarly section! I couldn't stop in the middle of a hill and finally got to the top, looking for a place to go, and I was fighting to get my camera pack one way, the fanny pack was on the other and, ahhhh…. Oh well, too late. [laughs] Fill the boot. I couldn't get my gear off in time."
All the way from Coeur d' Lane, Idaho, Monte Darling said, "It was a great, super ride! Except we got to the rock, on that one road. I really crashed bad. I felt the event was really good. It was well worth the ride all the way down here."
Another one of my old riding buds from Southern Oregon, Ryan Taylor said, "It was a great ride and I'll be back. Nothing funny happened because George [Flanigan] was behind me, so I didn't get to see it all. [laughs]"
Fellow Medford-ite, George Flanigan said, "It was great! I could do without those rocks, but anyway it's a rip. I don't have any funny stories that I'm going to tell you!"
Sal Martinez said, "It was great! Another wonderful day at the Black Dog! No funny stories. I was following George and he told me not to tell them! The funniest story was you all missed it yesterday morning right here in the camp! George was making a U-turn and went down. Didn't make it five feet and he was already down. Then there are the guys he ran off the trail at the powerline. They should know better than to pass George. Now they know. [laughs]"
Kyle Nordwell, Craig and Corey Stiff all three went through Blue Box (which is a manly feat to begin with), but there was one difference: Corey rode a mammoth DR650 through it! Kyle and Craig both chimed in, "Corey's a stud!"
Dualsport legacy, Bob Schwarz said, "It was a good ride, dusty of course, but I guess that goes with the territory. I managed to get through it and really enjoyed the better part of the course, except for your famous four-inch minus rock section. There were a bunch of cows in there too. It was a great ride, enjoyed it! When Billy Toman and I were unloading his bike this morning, we lost balance and made history out of one of his turn signals. Think we need to go to training school on how two people unload a bike. He was on one side pulling and I was doing the same on the other. [laughs] So we were both rolling around on the ground at the start wondering why we were here. Oh, and by the way, that rocky section sucked! No wait, it really, really sucked! [laughs]"
First timer on a KLR650, Greg Lunde said, "It was an exhilarating ride! My very first time and I learned that you should tighten everything down before you go. The tripmeter and hub came loose. I didn't fall, so that's the main thing."
Bob Lanphere Jr. said, "Hey, it's a great ride, a little dusty, but I had some great friends to ride with. I went down on the slimy hill yesterday and Steve [Simon] spit water on me. [laughs] He did the water bottle trick going down the highway, and got my goggles. That stuck to all the dust. I had a great time, perfect campsite, and I told my wife that every dualsport is this nice, and this nice of a campsite and she believed me!"
Taylor Honda's own John Taylor said, "We rode that last downhill A section on Bonnie Meadows Trail, and it's a good thing I went slow on my KLR! Thank God I didn't make any mistakes! [laughs]"
Lobos M/C's Billy Toman and dualsport extraordinare, said, "Thought it was great! We really liked that Bonnie Meadows section, that was great. You gave us a good overall of the general area. I'd tell you where to put that four-inch rock section, but there's girls present. [laughs] Those poor guys on the KLR's and bigger bikes were dying through there. Those cows were an adventure too!"
Dave Newell said, "It was a great ride. I bent my shifter and brake levers up. We did all the A sections. That Bonnie Meadows was really nice."
Walt Koch said, "That was a great ride. We had a blast and the weather was really perfect. The scenery was awesome! Saw some bovine. That Bonnie Meadows was really a great ride!"
AMA's West Coast Ambassador, John Pursley said, "It was a beautiful ride, except for that damn piece of gravel! I was doing real well and fell over in the only soft spot in the course until I got to that. [laughs] Seems strange, but the only thing I saw broke down was Honda's. [more laughter]"
I would like to thank the many, dedicated, and talented sponsors and people that helped with the event. The event absolutely could not have happened without their help: Beaverton Honda/Yamaha, Gresham Husqvarna/KTM, Mt. Hood Honda, Town Center Cycle, Rose City Off-Road, Pro-Caliber, Zims Sports Plaza, House of Horsepower, Affordable Trophies, Randy Beadle, John Hughes, Gunny Claypoole, Jim Dukes, Bill Rush, Tami, Jessie, Shawn, Dan & Lori Buedefeldt, Billy Toman and Lobos M/C, Steve Doane, Walt Koch, Frank Noe, Joe & Julie Barrell, Chad & Ron Rice, Cynthia & Mt. Hood Village, Dennis Beechler and Christi Covington of the US Forest Service and anyone else I may have forgotten. Oh, and can't forget Starbuck's Coffee for keeping me awake during the long hours!
As usual, next year's Black Dog will again be on the weekend following the 4th of July! There will be another one-day dualsport at the end of this September that Northwest Tour & Trail will be hosting. Email me for info or check the OMRA web page in the events calendar.
If you'd like to see more pictures of the '99 Black Dog from one of the sweep crew - Jim Dukes, click here.